P PENGUNGKAPAN ANTI KORUPSI DAN KINERJA KEUANGAN PERUSAHAAN: STUDI KASUS PERUSAHAAN TERDAFTAR DI INDEKS SRI KEHATI
Abstract
Corruption within the corporation has become an important issue in the academic and public debate. The negative consequences caused by companies that engage in corruption are enormous, such as market distortion and incentives, resource allocation inefficiencies, as well as the increased of poverty and social inequality. Companies have the opportunity through a corporate responsibility (CSR) to prevent the problem of corruption. As important as labor, human and environmental rights, corruption mitigation is an important aspect in promoting CSR. CSR can be profitable in sales revenue and market share by improving the perception of ethical corporate customers. However, with the involvement of corruption, it can reduce the confidence of investors and the public against the company which may result in reduced financial performance. The purpose of this study is to determine empirically the correlation of anti-corruption disclosure reported by the companies listed in the Sri Kehati Index and FTSEGoods Bursa Malaysia Index on their financial performance, both the short and long term. The results showed that only the whistle blowing policies were fully disclosed by all companies in the sample of this study. The results also show that the disclosure of anti-corruption has significant influence on the company's profitability only in the long term for companies registered in Sri Kehati Indonesia index. As for the sample of companies registered in Malaysia FTSEGoods Index, the results showed that the disclosure of anti-corruption affect the company's financial performance both in the short term and in the long term. This implies that investors were responding to the anti corruption issues disclosed by the companies and companies should keep the disclosure practice in the future.
Keywords: anti-corruption, corporate social responsibility, disclosure, financial performance.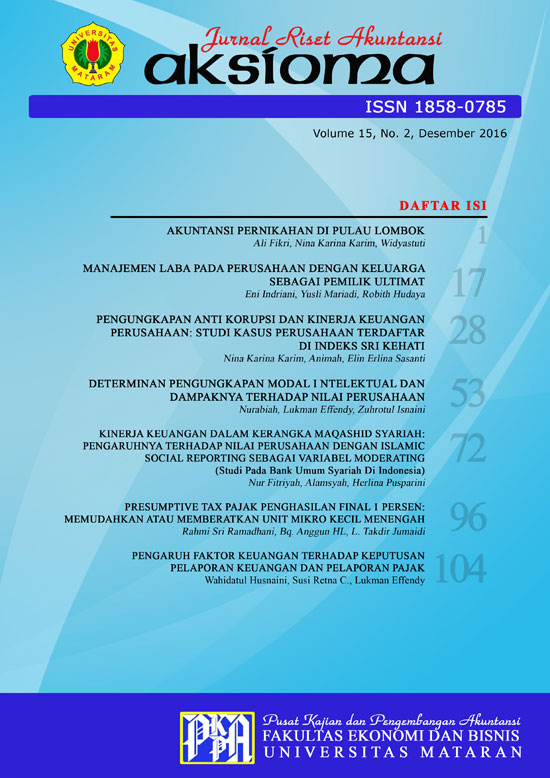 How to Cite
KARIM, Nina Karina. P PENGUNGKAPAN ANTI KORUPSI DAN KINERJA KEUANGAN PERUSAHAAN: STUDI KASUS PERUSAHAAN TERDAFTAR DI INDEKS SRI KEHATI.
Accaounting Journal Research
, [S.l.], v. 15, n. 2, p. 28, aug. 2017. ISSN 1858-0785. Available at: <
http://aksioma.unram.ac.id/index.php/aksioma/article/view/5
>. Date accessed: 23 feb. 2018.