KINERJA KEUANGAN DALAM KERANGKA MAQASHID SYARIAH: PENGARUHNYA TERHADAP NILAI PERUSAHAAN DENGAN ISLAMIC SOCIAL REPORTING SEBAGAI VARIABEL MODERATING
(Studi Pada Bank Umum Syariah Di Indonesia)
Abstract
The objective of this study is to provide empirical evidence on the influence of financial performance based on the framework of Maqashid Sharia toward the company value moderated by the Islamic Social Reporting (ISR) of Islamic banking in Indonesia. This study applied Agency Theory, Signaling Theory and Legitimacy Theory to justify the relationship between the variables studied. The sample of this study consisted of 11 Islamic Banks in Indonesia. Data were collected from financial statements and annual reports published by Bank Indonesia (BI) and Islamic Banks for the fiscal year of 2011-2015. Data were analyzed based on Moderating Regression Analysis (MRA). The results showed that financial performance, ISR and the interaction between the financial performances and the ISR does not simultaneously affect the company value at a significance level of 5%. However, it showed a significance level at 10% level of confidence. Partially, the results do not show that financial performance nor the ISR has influence on the company value. The result also indicated that ISR does not moderate the relationship between the financial performance and the company value.
Keywords: financial performance, Islamic social reporting, company value.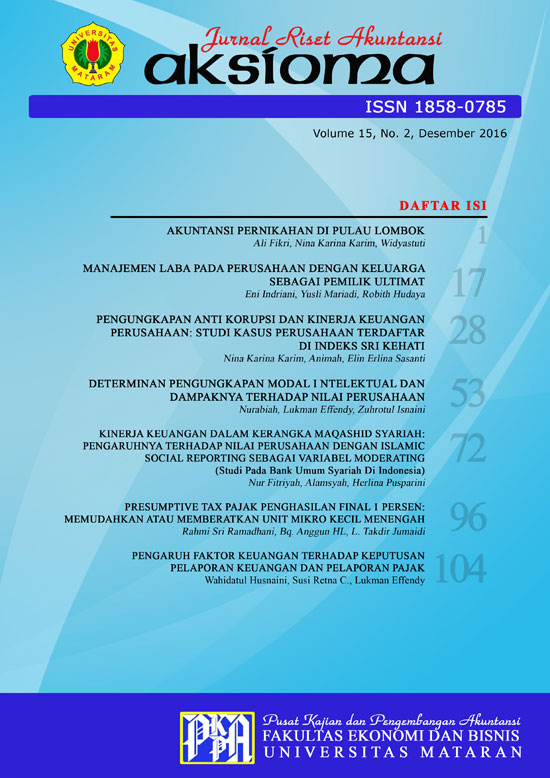 How to Cite
FITRIYAH, Nur. KINERJA KEUANGAN DALAM KERANGKA MAQASHID SYARIAH: PENGARUHNYA TERHADAP NILAI PERUSAHAAN DENGAN ISLAMIC SOCIAL REPORTING SEBAGAI VARIABEL MODERATING.
Accaounting Journal Research
, [S.l.], v. 15, n. 2, p. 72, aug. 2017. ISSN 1858-0785. Available at: <
http://aksioma.unram.ac.id/index.php/aksioma/article/view/6
>. Date accessed: 23 feb. 2018.