P PRESUMPTIVE TAX PAJAK PENGHASILAN FINAL 1 PERSEN: MEMUDAHKAN ATAU MEMBERATKAN UNIT MIKRO KECIL MENENGAH
Abstract
The Government has issued Government Regulation No. 46 Year 2013 regarding Income Tax on Income from Business or Obtained Received Tax Payer. This government regulation set Income Tax (VAT), which shall be final on income received or accrued by the taxpayer with a gross turnover of certain restrictions. Consideration of the Government for the imposition of income tax at the rate of 1% of the circulation of business every month and final of MSMEs as stated in the explanation of the general PP 46 in 2013 is simplicity in tax collection, reduced administrative burden for both the taxpayer and the Directorate General of Taxation, and with regard to economic development and monetary. Imposition of final income tax means that after payment of income tax of 1% calculated on the gross income each month, the tax liability on such income has been considered complete and final. Judging from the concept of fairness in taxation (equity principle), the imposition of final income is not in accordance with justice because it does not reflect the ability to pay. This study aimed to determine the perception of MSMEs in West Lombok district Banyumulek related to the final income tax. The results showed that the imposition of final income tax rate of 1% of gross income tax authorities which are intended to facilitate the taxpayers in calculating the tax to be paid has not been fully accepted by the taxpayer SMEs Sentra pottery industry in Banyumulek. For them, the imposition of final income tax rate of 1% of gross turnover is only prioritize on the ease of taxpayers to calculate the tax payable, regardless of the side of fairness for taxpayers, since each taxpayer has a different number of dependents.
Keywords: income tax (VAT), SMEs, 1% final rate.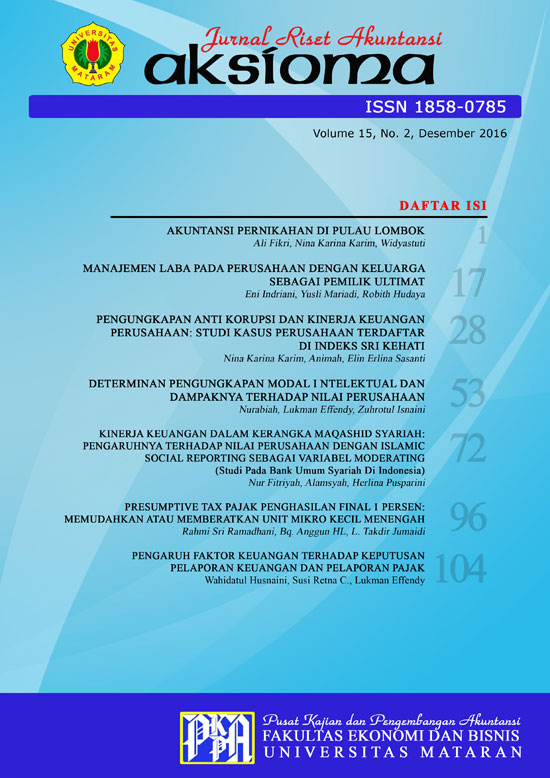 How to Cite
RAMADHANI, Rahmi Sri. P PRESUMPTIVE TAX PAJAK PENGHASILAN FINAL 1 PERSEN: MEMUDAHKAN ATAU MEMBERATKAN UNIT MIKRO KECIL MENENGAH.
Accaounting Journal Research
, [S.l.], v. 15, n. 2, p. 96, aug. 2017. ISSN 1858-0785. Available at: <
http://aksioma.unram.ac.id/index.php/aksioma/article/view/8
>. Date accessed: 23 feb. 2018.